We are Suitable
It all started in a student room in Maastricht with suits and skirt costumes, now we are one of the most dynamic and forward-thinking retailers in men's fashion.

Visit our webshop
My moment,
my style
Our philosophy
It is our goal to personally advise you as a man and to dress you in an appropriate style for every moment. We know better than anyone that a fitting and distinctive outfit gives you confidence. From weddings to walks in the woods and from job interviews to drinks; we are proud to help you find the right style for your moment. No matter how big or small that moment is.

We do this with our 16 physical shops and our online webshop, where we make shopping as easy as possible for men with expert advice and excellent service. So you can find the right style for every moment with us.
24/7 service
24/7 the convenience of online shopping. And in the shops with enthusiastic experts!
Appropriate advice
We advise you personally and professionally, with a high knowledge of clothing.
Competitive warranty
All clothing is manufactured with care. We guarantee our durable quality.
Exchange without issues
Very generous exchange policy, with money back guarantee for Suitable Club members.
Adjustment service
Our clothing is custom made for you with our adjustment service.
Suitable Club
Benefits and extra long warranty for Suitable Club members.
Culture
At Suitable we are involved. Whether it's about developing clothing or the connection with you, our colleagues and partners: it's about the long term relationship. The pleasure we have in our work, we radiate to each other and to you. Whether you speak to someone in one of our shops, through our customer service or encounter a communication expression of ours: we approach you in a personal and enjoyable way.

In order to meet and continue to meet your needs, we are always innovating. Whether it concerns internal processes or the clothing itself; we are innovative. Because of our drive to be progressive and decisive, we continue to grow together and are always busy getting the best out of each other and ourselves. We always want to move forward, we think in terms of opportunities and solutions.

Quality is of course important to us. This is reflected in our clothing, which we select with care and for which we have a quality guarantee. But quality is also reflected in our organisation in other ways. We work together with dedicated people, who work in our shops, logistics and at the office from their own expertise and craftsmanship. It is this collaboration that unites us. We continuously develop our talents and knowledge with the help of each other and the Suitable Academy.
Involved
Involved in you, our colleagues and our environment
Innovative
We always want to move forward and think in terms of opportunities and solutions
Quality
Both in our clothing and in our dedicated team
Suitable in numbers
1996
Founded in the student room of Raoul van Dun in Maastricht.
200.000
Very satisfied Suitable customers.
400km
Fabric goes through our warehouse every year.
94
Enthusiastic and expert colleagues who help you on a daily basis.
7x
5 years in a row winner of the FD gazelle award.
16
Physical stores, soon we will even open a new store!
Take a look in our shops
One store that offers you the solution for all your moments. For work, leisure, or special occasions, the collection of Suitable always offers you an answer. We want to make buying clothes for men as easy as possible, so that you have time to enjoy all those beautiful moments in your life. With 16 shops and a 17th store on the way, there is always a Suitable store nearby. It's definitely worth checking out all of our shops, because we've selected them all for their unique look. Almost all shops are located in monumental buildings, so each shop has its own contemporary charm.

You are welcome in our Suitable shops, where we will be happy to welcome you with a cup of coffee!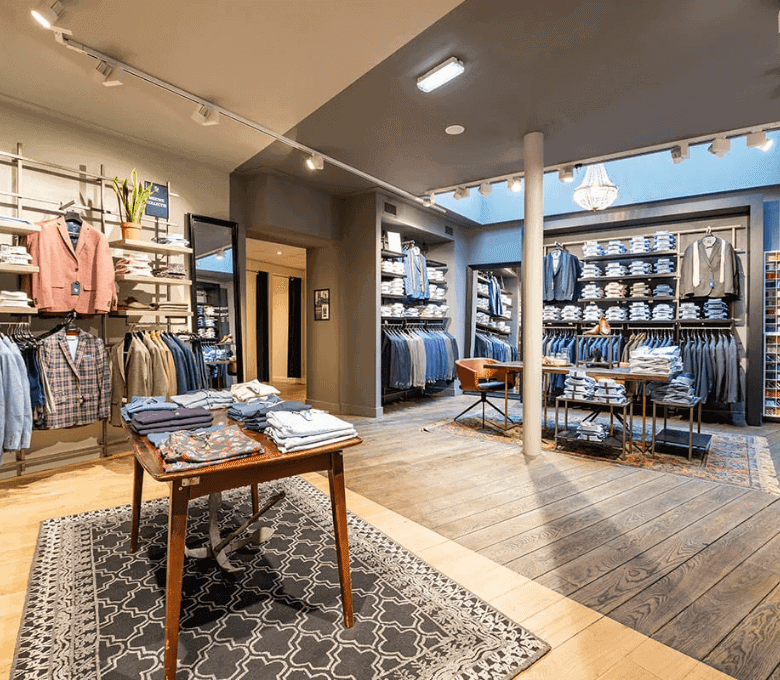 Our collection
Besides our own Suitable label we offer you over 75 other beautiful brands in our collection. Precisely the combination of our label and these brands makes that we can offer you an exclusive total offer that you won't find anywhere else. From casual to business and from contemporary to gala; we can dress you as a man for any occasion and advise you on clothing that suits your personal style.
Suitable over the years
The beginning
It all started in a student room in Maastricht with the sale of skirt suits
1996
First branch
In Maastricht the first branch was opened under the name Peanuts
1999
Second branch
In Amsterdam aan de Singel the second branch was opened
2001
Peanuts became Suitable
The name was changed from Peanuts to Suitable and the company's own label was launched. Opening Suitable Shop Leiden.
2002
Launch of webshop
Our own webshop is launched to offer our products online.
2003
Suitable Shop Tilburg
We open a new shop in Tilburg. Unfortunately it had to be closed at the end of 2006.
2004
Suitable Shop Den Bosch
We open a new shop in Den Bosch.
2006
Suitable Shop Groningen
Opening Suitable Shop Groningen.
2007
New webshop
A whole new webshop! 24/7 shopping at Suitable.
2008
Suitable Shop Utrecht
Opening Suitable Shop Groningen.
2009
A busy year!
FD Gazellen Awards 2012, which we also win in 2013 and 2014! Two Suitable stores opened in one year: Haarlem and The Hague. Suitable also starts with the webshop in Belgium. Suitableshop.be. Opening Suitable Shop Breda.
2012
10th Suitable Shop
We open our 10th Suitable Shop in Arnhem.
2013
Suitable Shop Rotterdam
Opening Suitable Shop Rotterdam.
2014
Suitable Shop Oisterwijk
Opening Suitable Shop Oisterwijk.
2015
Relocation
Relocation head office. Opening Suitable Shop Zwolle.
2016
Many developments!
Renewal of the Suitable concept in Utrecht. 5th time FD Gazellen Awards. Relocation Suitable Den Bosch and Groningen. German language webshop Suitable.de, Opening Suitable Shop Tilburg.
2017
Relocations, renovations and openings
Relocation Suitable Maastricht. New omni-channel stock management system. Rebuilding Suitable Tilburg. Opening Suitable Eindhoven. Opening Suitable Nijmegen.
2018
Relocation
Relocation Suitable Haarlem.
2019